Just by the nature of landscaping and lawncare we put tools and equipment to the test.  I thought I could give you some input on work pants.  Everyday we have a chance to check durability, function, and comfort of our work pants.  I have worn Levi blue jeans, various Carhartts, Wrangler work pant, even Patagonia Standup pants.  Here is my take on two……….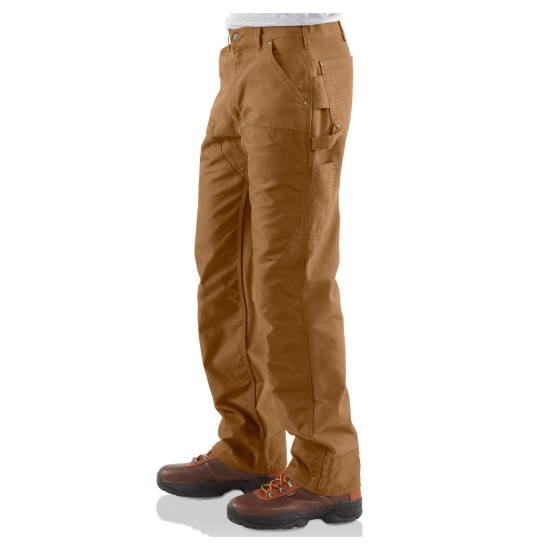 Carhartt, the most popular work pant in Montana, even considered formal wear.  The Double Front Duck pant is a staple on Montana work and fashion for men.   I swore by these pants for many years.  On the older ones you would have to make a small tweak-cut- to make your protected smart phone fit into pocket.  Once you break these in they are a great work pant.  My second favorite.
The Dickies Double Knee is mygo to work pant now.  A few years ago I inadvertently bought two pairs.  I immediately found them more comfortable during work – lighter but surprisingly just as durable.  After three years of use they started to fray at the bottom of the leg, to be expected after three years.  The light material makes for cooler wearing in the summer months, us landscapers appreciate that.  They are reinforced just in the knees so there is no excess materials that would lead to a bulky pant feel.  The utility pocket is a good size for a protected smart phone.  They wash well, any stains(oil and grease) come out fairly easy.
A weird post, but a few friends asked me to put this up.