It is amazing how fast new technology can find its place amongst our lives.  May Lawn & Home Care Inc. is always looking for new ways to help make your landscaping better – not just aesthetically but also in energy savings wise.  Whether it be a water saving smart irrigation controller(only controller we install), well placed trees for shading, or LED lighting. We have been installing LED landscape lighting for the past 4 years.  Why LED lighting?
-bulbs last longer, some manufactures warranties are 15 years(when coupled with their transformers)
-lighting hue selections, manufactures offer different hues of light to match existing lights or change lighting effect
-LED lights use less electricity, not only means a smaller power bill but less in wire and transformer costs due to less voltage needed at each fixture
Landscape lighting can add to the safety of your property by illuminating walkways as the nights grow longer and can add visibility and depth to the landscape at night.  May Lawn & Home Care Inc. has been awarded the Kichler Lighting Pro status through our numerous years of experience installing their fixtures.  We not only offer Kichler landscape lights but FxLuminaire and Cast.  If between these three suppliers we can not find a lighting fixture that will meet your style and needs we can custom make lights.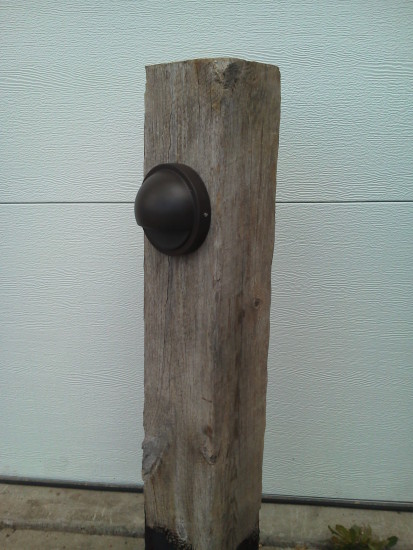 This light was created using a reclaimed timber and a LED fixture from Kichler.  It matches the architectural highlights of the home and fits very nicely into the landscape.
Give us a call or email to set up an appointment to discuss your lighting needs.